Get free, expert Medicare advice from an unbiased advisor! Schedule a consultation with one of our licensed Montana Medicare Advisors or give us a call at (888) 604-0055 to get your questions answered.
Read this Montana Medicare guide to learn when and how to enroll in Medicare and how to make sure you get the most out of your Medicare.
Use this table of contents to jump to specific sections:
A Snapshot of Medicare in Montana
There are 244,000 Montana Medicare beneficiaries, making up 22% of the state's total population. Most Montana residents age into Medicare when they turn 65, but about 11% are on Medicare due to disability. 12% of Medicare enrollees are dually eligible, meaning they also receive Medicaid benefits to help them pay for some or all of their healthcare costs. 
Medicare beneficiaries have options and can either stay on Original Medicare or switch to a Medicare Advantage plan. In Montana, 77% choose to remain on Original Medicare and 23% enroll in a Medicare Advantage plan. 
Montana Medicare Eligibility and Enrollment Steps
All US citizens have the same Medicare eligibility requirements. If you're 65 or older, you're eligible. You also may be eligible if you have certain disabilities, including ALS and End-Stage Kidney Disease.
Medicare Enrollment Steps
1. Enroll in Original Medicare (Part A & Part B) 
The first step is to enroll in Original Medicare (also sometimes called Traditional Medicare), which includes Medicare Part A and Part B. Most people can enroll up to three months before the month they turn 65. If you're already drawing from Social Security, you'll be enrolled automatically. Otherwise, you'll need to notify Social Security that you want to enroll during your Initial Enrollment Period (IEP). Your IEP is a 7-month window that starts three months before the month you turn 65 and ends three months after it. 
If you're still working, you may choose to delay your Medicare Part B enrollment. We recommend comparing your employer-linked coverage with Medicare because, oftentimes, people are able to save by moving to Medicare. If you want to stay on your employer coverage, just be sure you're eligible for the Part B Special Enrollment Period later—or you may have to pay a late enrollment penalty!
2. Compare additional coverage options
Medicare beneficiaries can choose to either stay on Original Medicare or enroll in a Medicare Advantage plan. If you stay on Original Medicare, you may also add a Medicare Supplement (also called Medigap) plan and/or a Part D (prescription drug) plan. Both Medicare Advantage and Original Medicare—with and without additional Medicare insurance—have their pros and cons, which we explain in detail later in this Montana Medicare guide. 
3. Get the most value from Medicare
Three key things go into getting the most value from Medicare. 
Choose the best Medicare coverage for your unique health and financial situation.

Use your Medicare coverage, including your preventive care services.

Review your Medicare coverage each year during the Medicare Open Enrollment Period (October 15 - December 7). Learn more about this annual Medicare enrollment period here.

Montana Medicare Advantage Plans
There are 24 Medicare Advantage plans in Montana, which is the 5th lowest in the country. The plans available to you will vary based on the county you live in. For example, Yellowstone County and Missoula County both have 17 Medicare Advantage plans available, while Glacier County has two. 
Medicare Advantage plans replace your Original Medicare and, by law, they must provide at least the same amount of coverage. They're popular among many Medicare beneficiaries because they also tend to provide prescription drug coverage and some other nice benefits, which may include:
Dental services

Vision care

Hearing benefits

Fitness perks
Medicare Advantage plans bundle your coverage and extra benefits together, but they also have their drawbacks. Many Medicare Advantage enrollees have complaints about network restrictions that don't allow them to see the doctors they prefer, pre-authorization requirements and denials for covered services they need, and high out-of-pocket costs. 
If you decide Medicare Advantage is right for you, we'll ensure we find the right plan that allows you to see your preferred providers and gets you the best value! Reach out to our licensed Montana Medicare Advisors to discuss specific Medicare Advantage plans, as well as your other Medicare options. 
Montana Medicare Supplement Plans
Montana has ten Medicare Supplement plan types, labeled by letters A-N. These plans are often also called Medigap plans, and we'll use "Medicare Supplement" and "Medigap" interchangeably. 
Many Medicare beneficiaries choose to add a Medigap plan to their Original Medicare coverage to help cover the 20% of costs that Original Medicare doesn't pay. Each of the Medigap plan types reduces your out-of-pocket costs, but they have different coverage levels. For example, a Medigap Plan G, which is the most comprehensive plan, covers all of your out-of-pocket costs, except your Part B deductible. Compare Plan G to Plan N, and you'll see that they're almost the same, but Plan N doesn't cover ​​Part B excess charges and some Part B copayments and emergency room visits. See a complete comparison of Medigap plans available in Montana in the table below.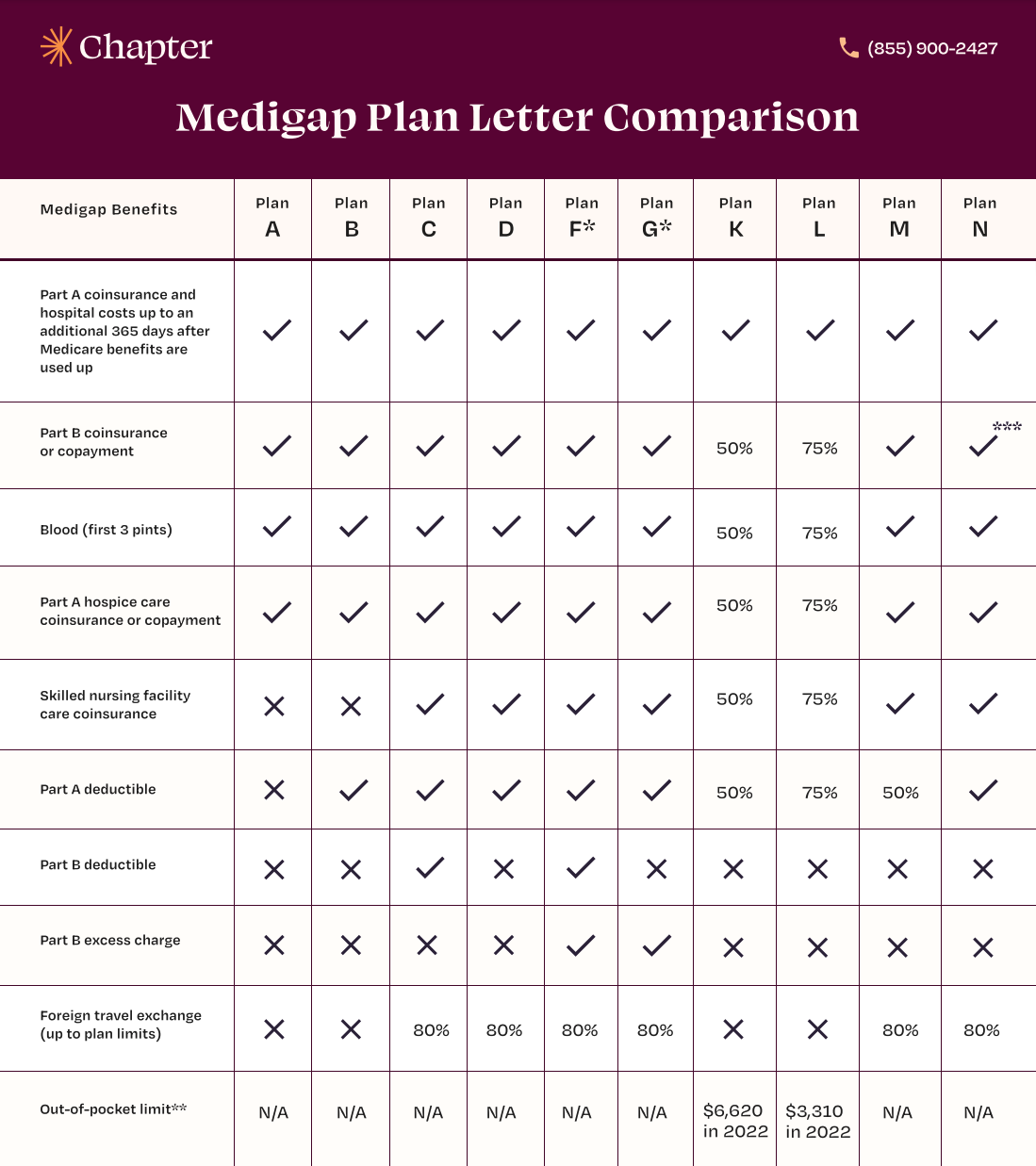 Four key benefits of Medigap plans that you don't get with Medicare Advantage are:
Each plan type (e.g., Plan G) has identical coverage, making it easier to choose your policy

There are no provider networks, so you can see any doctor who accepts Medicare

You won't be required to get prior authorization for Medicare-covered services

Your out-of-pocket costs are incredibly low
The best time to enroll in a Medigap plan is during your Medigap Open Enrollment Period, which lasts for six months after you get Part B. The Medicare Open Enrollment Period is a guaranteed issue period, which means insurance companies cannot deny you coverage for any reason during this time. Outside of the Medigap Open Enrollment Period and a handful of other guaranteed issue periods, insurance carriers may ask you questions about your health history and can deny you Medigap coverage.
Montana Part D Plans
Most Medicare Advantage plans provide prescription coverage. If you're on Original Medicare, you should enroll in a standalone Part D (prescription drug) plan. There are 24 stand-alone drug plans in Montana. Like with Medicare Advantage, specific plan pricing and availability depends on which county you live in. 
Even if you don't have any prescriptions when you first enroll in Medicare, we recommend enrolling in a low-cost Part D plan to avoid paying a Medicare penalty!
If you have questions about Medicare options or want to compare plan benefits and pricing, schedule a free consultation with one of our licensed Montana Medicare Advisors or give us a call at (888) 604-0055. 
Get help paying for Medicare in Montana
Healthcare costs can be overwhelming for many Americans. These three government programs help low-income Montana Medicare beneficiaries pay for health-related expenses. 
Montana Medicaid for Medicare Beneficiaries 
Medicaid is a joint federal and state government program that's run by each individual state. Montana's Medicaid program is run by the Montana Department of Public Health and Human Services. 
Medicare Savings Programs are a focal point for Montana's Aged, Blind, and Disabled (ABD) Medicaid. Montana has three Medicare Savings Programs with different eligibility criteria and benefits.
Qualified Medicare Beneficiaries (QMB) Program
If you receive QMB benefits, you'll also receive a Montana Medicaid card. The QMB benefits include Medicaid payment for:
Specified Low-Income Medicare Beneficiaries (SLMB) Program
The SLMB program pays for eligible beneficiaries' Part B premium.
Qualifying Individual (QI) Program
The QI program pays for eligible beneficiaries' Part B premium.
You can apply for these programs online apply.mt.gov. If you need assistance determining if you're eligible, applying, or accessing your benefits, reach out to our Montana Medicare experts at (888) 604-0055.
Medicare Extra Help
Extra Help is a federal program that helps pay for costs associated with prescription drug coverage, including premiums, deductibles, and coinsurance. It's also commonly called the Part D Low-Income Subsidy (LIS).
You automatically qualify for Extra Help if you:
Receive full Medicaid coverage from Montana

Montana pays your Part B premium

Are eligible for Supplemental Security Income (SSI)
If you don't automatically receive Extra Help, one of our licensed Montana Medicare Advisors can help you figure out if you're eligible and guide you through your application process.
Supplemental Security Income (SSI) Benefits
Eligible US citizens receive monthly payments from the SSI program. You're considered eligible if you meet the following criteria:
You can apply for SSI Benefits online or by calling 1-800-772-1213 / TTY 1-800-325-0778.